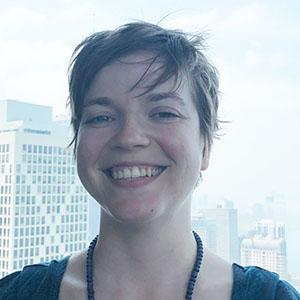 Robin Fischer
Community Manager
---
As Community Manager of the Esports Trade Association, Robin uses her love of language and culture to create meaningful communication engagement through various platforms that inspire organic growth, value and awareness informed by marketing initiatives. Robin's passion for research and writing supports company outreach with ease. Being an ambassador to the public allows her to embrace her craft with integrity and grace by providing clear communication of client partner messaging. Robin has made herself essential with her strong ability to learn a client partners' mission, vision, offerings and future goals in order to amplify their voice. Robin's role is to ensure that all communications are credible/research supported and aligned with all that VPG offers as an AMC. 
Robin has called Chicago home for over a decade. She spent her establishing years in Chicago developing a head for integrative marketing strategy and cultivating the coordination of stand out promotional events for PR Chicago. She began as a Brand Ambassador and quickly rose from the ranks to the position of Event and Social Media Manager. These experiences fostered her ability to learn foundational skills and then bring this knowledge to the table to understand how a company functions as a team. For VPG, this knowledge is key for bringing an association's vision to life.
Favorite motto/quote: "The key to realizing a dream is to focus not on success but on significance — and then even the small steps and little victories along your path will take on greater meaning." -Oprah Winfrey
When you're not at VPG, you're: Walking in Chicago's beautiful city parks, playing with my cat Noodle, creating work/life balance through meditation, and developing my ability to cook for each season.
One person you'd like to meet (dead or alive): Comedian, Maria Bamford
What do you want to be when you grow up: Project Manager
Greatest achievement: Learning how to meditate and incorporating the practice into my daily life to support my emotional and physical health.